Mo Willems
Image Courtesy of publicbroadcasting.net
I just received my copy of
Parents
magazine in the mail yesterday, and was delighted to see that the November 2011 issue is all about raising readers.
Two of my favorite features in this month's issue are
"YOUR CHILD-THRIVE IN 2025: Hit the Books"
and "Read, Cook, Love".
"Hit the Books"
is a fabulous article in which famous authors and illustrators like Mo Williams, author of the
Knuffle Bunny
series, talk about how they encourage and support a love of reading in their children.
Image Courtesy of cup-a.blogspot.com
Though you will have to purchase (or check it out at your library) the November 2011 issue of Parents in order to read some of these stellar articles (I think they are too new to be listed on the website-at least I can't find them), you can find various resources in the
"Raise A Reader"
section of their website. You'll find: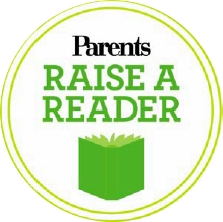 Image courtesy of Parents.com
While you are checking out these resources, you should be aware that Parents is hosting a contest where kids can win gift cards for books, as well as money for their school libraries. Find the details by following the links
here
, because who doesn't love free books?!?!