On a whim, while attempting to select some good "Easy Readers" for my first through third book group, I stumbled across a pretty funny series called Fitch and Chip by Lisa Wheeler. The book I selected is called
New Pig in Town,
in which Chip (the pig) is the new student in class and realizes that Fitch is the only wolf. The story continues with some pretty good pig and "lone wolf" jokes, and concludes with Fitch and Chip becoming friends. Though this book is outside of what I would call "Early Literacy Parameters", it would still be a fun read to share. Particularly for a toddler entering preschool.
In my book group, we always conclude with a craft. I picked the book first this time, so I ended up beating my head up against a wall for a craft to go with it. And then I came up with the perfect idea!
Pig and Wolf Paper Bag Puppets!
The novelty of this idea is that not only can you use the puppets as Fitch and Chip, but you could also use them as the base for other pig and wolf stories, The Three Little Pigs, Little Red Riding Hood, you get my drift.
Let me be clear. I DID NOT make these templates myself. I lend credit where credit is due, in the caption link. But if you ask my opinion, these are two of the best patterns out there for a wolf and pig puppet. You will notice that I did modify my final product from the templates. More on that later...
This is the pattern I used for Chip the Pig:
Template provided by archjrc.com:
And this is the pattern I used for Fitch the Wolf:
Template and photo provided by easy-child-crafts.com
The file is in PDF format, so click the link below to access it.
This is my rendition of Chip the Pig, utilizing the above template as a guide:
I used 2 shades of pink paper and used the template as tracing outline. All of the black is drawn on with permanent marker.
This is my rendition of Fitch the Wolf, utilizing the above template as a guide: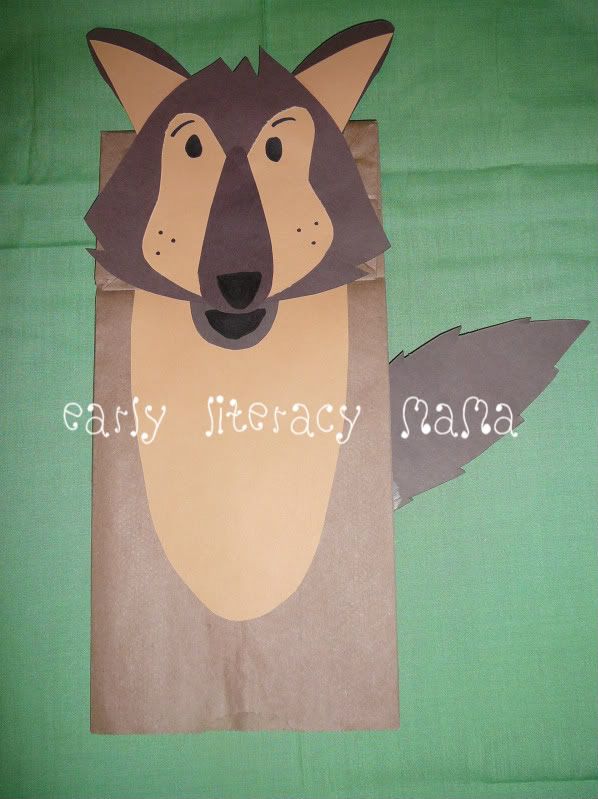 I used 2 shades of brown paper and once again used the template as a tracing outline. Instead of grey and white, and chose not utilize the arms from the template. All of the black is once again drawn on with permanent marker.
I hope you have fun making these puppets, and are able to modify them to suit your needs as well! If you do make them, comment me a link to your post, I'd love to see what you and/or your kids have made!