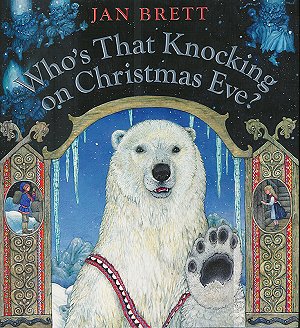 For day one of "Five Days of Worth-The-Read Christmas Books", I thought I would start with the opitome Christmas authors, Jan Brett. Ms. Brett has written so many Christmas and wintertime stories, that if you miss a few of her everyday books, you would think she writes Christmas and winter books exclusively.
Most of Brett's books are riddled with folklore and fantasy, and her trademark old worldly illustrated hindsight/foresight sidebars lend an accent to those styles nicely.
Who's That Knocking on Christmas Eve
(
WTKOCE
) is no different in style.
In this story, a young boy from Finmark, Norway is on his way to Oslo with his Ice Bear when he smells something delicious and stumbles upon a cabin in the woods.
Inside the cabin, a girl name Kyri is cooking Christmas Eve dinner for her family and is startled by every sound she hears. She's had trouble with Trolls invading and eating her Christmas Eve dinners in the past, and she's afraid they'll be back for more this year. Deciding that the young boy's knock was polite enough, she lets him and his Ice Bear inside to warm up. Soon, they are invaded by trolls.
I don't want to give away the whole story, but it ends with the young boy and his bear being invited back for Christmas Eve dinners to come.
Overall, this story is well written for it's intended audience, and incorporates some of Brett's favorite themes: Winter, Bears, and Trolls. The Illustrations are stellar in classic Brett style, but my favorite illustrations in this book lie within the sidebars. Brett did a phenomenal job incorporating the troll theme into her illustrations of the northern lights and constellations, I had to go back after I finished the story itself to take in the beauty and detail of the sidebars. I was left in awe. The detail in the illustrations alone make this book "Worth The Read", but the story by itself is sure to please young readers as well. As with most of Brett's books I say, the story is for the kids, but the illustrations are for the adults. :)
Stay tuned for what Day Two brings! Happy Reading!